Garage Door Springs
Back To Our Services
The door of your garage is normally balanced by either an extension spring or a torsion spring. It is mounted above the door's horizontal track and is perpendicular to the same and when closed is the extension garage door spring. This spring provides the lifting power that enables the door to open. You will find that there is more than one of this as part of the door of the garage. If you observe the way they operate, you will find that one operates independently from the other springs. This is the reason why it is more difficult to achieve a balanced and smooth operation. Another thing to take note of when speaking of extension springs for garage doors is they are at their most dangerous parts when the door is closed. During such periods, the springs are under great tension, making it very dangerous if they ever break. They might even cause injury in the absence of any precautionary measures.
Garage Door Repair and Maintenance Services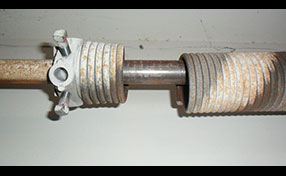 In view of the potential hazard that a garage door broken spring presents, it is best to keep the door in general and all garage door parts well maintained. One of the things that could ensure your safety is to have a safety cable running through it. Both ends of the cable must be secured to the ceiling or to the wall. If you do not yet have a similar cable installed, contact Garage Door Repair Cottage Grove to do the necessary inspection and, if needed, the installation of one. If what you have is already damaged or broken, we fully assist you with, since we provide excellent broken garage door cable replacement.
Our team of spectacular experts in Garage Door Repair Cottage Grove assist customer with any kind of spring issue encountered. Be it for repair, installation or just maintenance related to your doors, we are the company to call. In addition to this, adept technicians perform similar services for all the other parts of the said doors and their openers.
For more information about offered services, you can contact us via email or just call us.